2016-10-11: We are currently building a new website that will replace this in the upcoming weeks. On the Meetings page, we have posted a link to the current meeting directory (as of October 2016). Please see this new meeting directory for information regarding our current support group offerings.
Welcome to the website for the Orange County chapter of DBSA. For 30 years, we have been helping those with mood disorders and their families navigate the ups and downs of life. Our chapter offers support groups (see meetings page); sponsors monthly Educational Meetings (see meetings page) and other events (see activities page); operates the Bipolar Resource Center and lending library at St. Joseph Hospital in Orange (see services page); publishes a quarterly newsletter (see services page); and provides information on mood disorders and local community resources (see services page).
We hope you'll find the information on our website helpful. However, you're more than welcome to call or visit our resource center – we would love to meet you! (Map To St. Joseph Hospital in Orange ) (St. Joseph Hospital Campus Map)
DBSA OC Bipolar Resource Center - (714) 744-8718
St. Joseph Hospital, Sister Elizabeth Building, 2 nd Floor, 1100 W. Stewart, Orange, CA
Any questions you might have about DBSA can be directed to the Orange County Bipolar Resource Center at: (714) 774-8718, e-Mailed to
or mailed to:
DBSA Orange County Chapter
PO Box 223
Tustin, CA 92781
You've taken an important step in your recovery by visiting our website. On behalf of DBSA OC, we wish you the best in your pursuit of improved mental, emotional and physical health.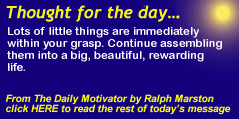 Notice that the thought for the day entry provides an off page link to the Daily Motivator Website. You might suspect that we are doing this in an attempt to make money on an Internet click through referral. We are not, even though we could certainly use some (money). The Daily Motivator Website (in the not so humble opinion of your Bipolar WebAdministrator) is simply the best of its kind, and because of this and the fact that it changes daily, I felt it should be right up front, instead of being buried in some obscure corner of a links page.) Please see the BOTTOM of this screen for information pertaining to our policy on Internet click through referral credits and other types of Internet based marketing credits.
Since we are on the subject of money; when we want to ask you to reach for your
, we'll be a bit more subtle like
Click here to Donate Now
This donate now link is actually active should you be so inclined !
Selection buttons that are red or have a red border are for use by DBSA OC Members. They select pages that require a login user-id and password. We have set up a 'guest' user-id that will provide access to MOST of the additional information on the "Intranet" side of our website. Use Website Info selection at the bottom of this page for more information. In the event you are curious about what's on the "Other" side of this site following is an example:
In the explanation of the "Science" behind this tip I mention that I have a framed cartoon hanging on the wall behind my computer (Presumably, I eventually notice it when I'm still up doing whatever it is that I find to do on my computer in the wee small hours of the night, and it nags me to go to the right web sites).
You can take a look at it by typing:
http://www.dbsaoc.orgimg/tweety's-prayer
Don't miss reading the banner Mama Mouse is holding - click on the magnifying glass to zoom in!
Then check out the four motivational slide shows - be sure you have sound turned on - remember, you won't know how effective they really are, until you are hypo-manic or just a wee bit manic.
http://wonderofitall.com http://positivepause.com
http://thegoodnessoflife.com
http://positivepause.com/en

Once you have had a suitable "Manic Moment" and found out for yourself whether or not it works for you, please remember to send an E-Mail (not bloody likely to happen but I can hope! - The problem is that Remembering and Manic Moments tend to be mutually exclusive events).
The pages on the Intranet page a.k.a. "Other side" of the site are more "show and tell oriented", as illustrated by this example..
*** *** *** *** *** *** *** *** *** *** *** *** *** *** *** *** *** *** *** *** *** *** *** *** *** *** *** *Notice* This website is still fairly new, and portions are still under development. Use the "Website" option shown at the bottom of each page if you wish to learn what is going on or to participate in our site's evolution
*** *** *** *** *** *** *** *** *** *** *** *** *** *** *** *** *** *** *** *** *** *** *** *** *** *** ***